Looking to Lose Weight
Eat Healthier
Improve workouts w/Sport Nutrition
Manage Medical Conditions w/Diet or
Have a Personal Exercise Program Designed?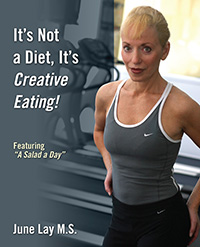 Certified Health Coach, Nutritionist & Weight Loss Specialist
Exercise Specialist
Master's Degree, Health, Rosalind Franklin School of Medicine
B.S. Behavioral Science, Behavioral/Cognitive Counselor and Certified Health Coach, NSHC
A.C.S.M. Certified Health & Fitness Specialist
American Dietetic Association, Certified Adult Weight Management Specialist & Nutritionist A.A.S.
Medical Exercise Specialist, The American Academy of Health and Fitness Rehabilitative Professionals
Lifestyle Columnist, Healthnewsdigest.com, Health Writer and Published Author "It's NOT a Diet, It's Creative Eating"!
For more information email me at june@junefit.com. Services include consultations and personalized programs for permanent weight loss, nutrition, medical nutrition, dietary counseling and sport nutrition, and exercise programs including strength training, injury prevention or rehabilitation post therapy, and more. All nutrition guidelines for medical conditions are per Physician recommendations and all programs are based upon evidence-based protocols.
Services offered via telephonic/remote including Skype. Inquiries welcomed.
Start the New Year with a Concrete Plan!